Anyone who runs a church media team or works in one would know how exhausting it can be to keep producing church posts. One moment you're posting photos of the youth ministry on the church instagram, and the next moment you're updating the church Facebook page with upcoming events. After you finish making church social media posts, you have to write a new blog, along with making notes on this week's sermon.
Even as you fight to keep your head above water with all these ministry social media tasks, your online presence is barely growing. This happens because the amount of Christian content that you're trying to create is realistically impossible, unless you have a big team to support your efforts.
The fact that you're here on this blog instead of on a recruitment site means that you'd prefer not to spend all those extra resources on a big media team.
While it may be impossible to create church posts for each and every social media platform where you want to have a presence, there is a way to reduce your workload AND increase growth on those platforms.
Let's get into it!
Strategy For Church Social Media Posts:
Reducing your workload actually increases growth when done correctly, because it lowers stress and enables you to do better quality work. While a high quantity of church content will capture people's attention, it is the high quality church content that will hold their attention.
However, you don't have to reduce the amount of Christian content you put out in order to reduce your workload. In fact, with this simple change, you will be able to put out the same quantity of content at a higher quality.
Instead of creating new content for each social media platform you want to post on, you should choose a pre-existing piece of content to be repackaged for each of the different platforms.
The process comes in two steps:
Selecting Christian content
Repurposing Christian content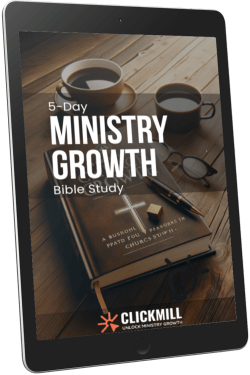 Get Your Exclusive 5-Day Ministry Growth Bible Study!
Get 3+ Hours Of Exclusive Video Content & 2 Free Ministry Growth E-Books When You Enter Your Name & Email! If you love this post, you'll also enjoy our article titled, Church Consulting: Hire Your Ideal Church Consultant.
Effective Church Posts: Selecting Content
Most churches have a wealth of Christian content from sermons, ministries, and events. This means that you don't have to spend additional resources to create new content. In fact, it may be inefficient to do so when you already have content that isn't being put to its full use.
The main difficulty is knowing what to use for church posts.
To make the most use of your church posts, you should build them around evergreen content.
Evergreen content is content that is continually relevant.
This means that if you have content about a specific issue relating to a specific time, such as the pandemic that occurred in 2020, you shouldn't use it for your church social media posts.
If you make Christian content that is restricted to a particular time, you will be obligated to make changes when that time passes or else your church page will seem outdated. This creates additional work and stress for you or your church media team.
On the other hand, topics such as hopelessness, doubt, loneliness, and lack of motivation are universally relevant, and will remain relevant over the years. These topics make up what we call evergreen content, because they are not restricted to a particular time frame, but instead will resonate with a variety of different seasons and circumstances.
The bottom line is that evergreen content will continually bless people and bring fruit in your ministry. You don't have to keep working on evergreen content to maintain it, so your time and energy can be redirected into other important projects.
Effective Church Posts: Repurposing Christian Content
Once you've chosen your content, it's time to break it up into pieces and start preparing those pieces to be posted.
Generally speaking, you shouldn't put full sermons or videos on social media. At that point, you haven't built enough commitment with your audience to keep their attention for that long.
Instead, you should take the most impactful parts of your message and post it in a condensed form. If you start by piquing their interest, you will have the opportunity to lead them to the full version on your own site.
It is better to develop an audience on your own site than on social media platforms, because if your audience isn't on your platform, they're not your audience. If your audience is on YouTube, for example, they can be easily taken away if you are banned from the platform, or if the platform collapses. Therefore, they're not truly your audience if they're not on your platform.
Another important thing to keep in mind when repurposing Christian content is which platform you're intending to use it for. Different platforms have different algorithms that will determine the success of your church posts.
For example, Facebook strives to be a place where people can connect as their authentic selves. As a result, pages and posts that seem too business-oriented will be flagged.
This shows how important it is to modify your content according to the guidelines of your intended platform's algorithm.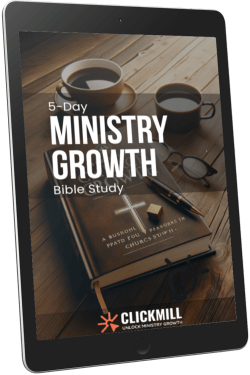 Get Your Exclusive 5-Day Ministry Growth Bible Study!
Get 3+ Hours Of Exclusive Video Content & 2 Free Ministry Growth E-Books When You Enter Your Name & Email! Fortunately, one piece of Christian content can have many uses, because it can be modified into a variety of different church posts.
For example, a sermon can be made into a short video clip, text for an image, or content for a church blog. This means that it can be posted on multiple different platforms, without requiring you to make a new piece of content for each platform.
Now that you know the technique that fruitful marketers use to reduce the workload AND increase effectiveness, it's time to put it into practice. Comment which pieces of evergreen content from your ministry you intend to make into church posts.
And don't forget to check out our video below, which covers this topic in more detail.