A Case Study on Digital Evangelism

Would you like to know more about digital evangelism to reach the lost for Christ in any country of the world?
If so, you are in the right place.
In this case study, you will learn the method one church used to share the Gospel message nearly 20,000 times in countries like India and the middle east.
All of this was done in a 9-month time frame and is still being shared thousands of times every month. The ministry continues to use this digital evangelism strategy.
The Step-by-step Digital Evangelism Process
We started by doing keyword research online and found that people all over the world are asking Google "Who Is Jesus."
2. The pastor took this keyword (Who is Jesus?) and filmed 20 sermons that addressed this question. These sermons asked who Jesus was, what He taught, what He came to do, how we know He was a trustworthy figure, etc.
3. These sermons were uploaded to the church's website.
4. Finally, a landing page was created for this sermon series. (A landing page is a page that asks for a website visitor to take a specific action to get access to something valuable.)
If you would like to know more about keyword research, check out my article over at Outreach Magazine titled: Church Keywords: Create A Digital Impact With Your Sermons
Join Our 1 hour church growth training - free access
1 Hour Zoom Training | Tuesday | 8 AM HST | Seats Are Limited | First Come First Serve | + Get 2 Free Church Marketing E-Books
Email or no Email?- That is the Question
The next part of this digital evangelism process was to decide if the church would request an email from the viewer in order to access to the sermon series.
An example of a typical email form is below.

We came up with a pros and cons list to help churches decide whether or not to ask for an email.
Ask for an email:
Pro: Asking for an email gives the church the ability to follow up with every person who signs up.
Pro: Building an email list gives the church the ability to witness and disciple a large group of people in countries that are often hard to reach.
Con: Asking for emails decreases the number of people who will see the sermon series because not everyone will want to sign up.
Don't ask for an email:
Pro: Not asking for an email in exchange for the sermon series guarantees that everyone can have access to the Gospel message.
Con: The church cannot follow-up with people who have watched the sermons.
Our clients have had wonderful reasons for choosing both options. Those who have chosen to require emails get 100's of email sign-ups each month.
This particular church is a very missions oriented church and decided not to require email sign-ups, thus giving more people direct access to the gospel message.
Now we came to another major question.
How to get the sermons series to Google searchers?
There is always a case to be made for trying to rank at the top of Google (organically). But this (Search Engine Optimization) can take a lot of time and there are no guarantees.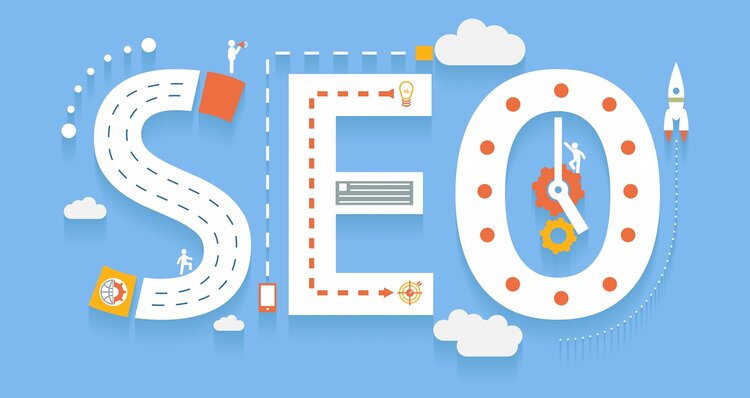 While the church was creating their landing page and sermons series, Clickmill.co was working in the background getting the Google Advertising Grant set up.
What's The Google Grant?
Google makes billions of dollars a year on advertising and it turns out they don't like paying taxes on that money.
To compensate for this, they offer US-based Non-profit organizations $10,000 a month in Free advertising on Google. This basically acts as an unlimited tax write-off for Google.
What this means is that Christian Churches around the US are using it to promote the spread of Christianity worldwide by showing ads to Christian material in countries that are difficult to reach.
Join Our 1 hour church growth training - free access
1 Hour Zoom Training | Tuesday | 8 AM HST | Seats Are Limited | First Come First Serve | + Get 2 Free Church Marketing E-Books
Once the Grant was approved for our client, we created ads and targeted international audiences with their digital sermon series.
Here is one example of a high-performing ad from our Who Is Jesus advertising campaign.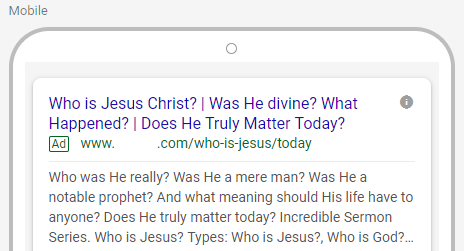 *If you like this article and want to know more about church growth, check out our post, 10 Most Powerful Church Growth Strategies.
How The Google Viewer Finds The Gospel Message
When someone in India or Iran searches for "Who is Jesus" on Google, they see an ad from the church using the Google Advertising Grant (like the ad above).
The Google searcher clicks the ad.
The viewer is routed to the page where the first sermon about Jesus and the Gospel message begins to play.
Breaking Down Digital Evangelism Numbers
Since Jan 7th, 2019 the "Who is Jesus" advertising campaign has given 12,900 Google searchers access to the Gospel message.
The Campaign continues to present the "Who is Jesus" campaign to 1,160+ Google Searchers each month.
People seeing these videos about Jesus are in India, the Middle East, Southeast Asia, and over 100 other countries.
These ads have an accumulated value of over $20,000.


A similar advertising campaign at the same church has given an additional 6,360 Google searchers access to the Gospel Message.
Since Jul 1st, 2019 these ads have been seen over 73,000 times.
The total cost (without the Google Grant) would have been $8,480.
This advertising campaign has been significantly more effective than the "Who is Jesus" campaign (Which is also killing it.).
This campaign continues to spend around $4,500 every month, giving around 3,000 Gospel presentations each month.
Join Our 1 hour church growth training - free access
1 Hour Zoom Training | Tuesday | 8 AM HST | Seats Are Limited | First Come First Serve | + Get 2 Free Church Marketing E-Books
This church had room left over to spend $2,000 each month advertising their discipleship training school nationwide.

Of course, any and all of this can be done without the Google Ad Grant.
While the Google Grant is an especially powerful tool to leverage for digital evangelism strategies, you can also get the same results with consistent Search Engine Optimization strategies.
You can learn more about digital ministry strategy in our article titled: Top 15 Church Website SEO Tips To Increase Visitors
Digital Evangelism eBook
If you found this article useful, you will love our book on digital evangelism titled, The Digital Ministry: Reaching The Ends Of The Earth Without Leaving Home. This book focuses on this and other effective digital evangelism strategies we use with clients every day.

You can learn more about the book on Amazon.
That about sums it up for this post on Digital Evangelism.

What questions do you have about reaching the lost for Christ online?

Let us know in the comments!