What Does a Church Consultant Do?
Church consulting is a process that takes place when church leaders partner with an outside individual who helps guide church leaders toward healthy church growth and the transformation that will help them achieve their vision for ministry.
Why Hire a Church Consultant?
Churches hire Church Consultants for many reasons.
Here are 5 common reasons you might consider hiring a consultant for church:
1) Church leaders desire to move their ministry forward, but they are overwhelmed by the number of tasks they have.
2) Church leaders want to utilize technology and the internet to make their church more accessible but aren't sure how to begin crafting a strategic plan that stays true to their mission and vision while incorporating digital strategies.
3) Church leaders want to raise a team around them, but they don't know how to go about finding qualified people to take these positions. Consultants help with this process.
4) Church leaders have a great desire to grow their church, but they aren't sure where they need to focus their energy or what steps are necessary to move forward in healthy growth.
5) Church leaders often wish for clear accountability from someone outside of the church staff who can give perspective on how well they are doing at carrying out the vision and mission of their church.
If you want to increase engagement by cultivating a healthy church culture, check out our article: Church Culture: Fostering Unity and Growth.
Consultants provide insight into problems that are holding a church back from accomplishing its goals.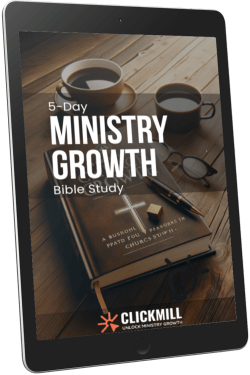 Get Your Exclusive 5-Day Ministry Growth Bible Study!
Get 3+ Hours Of Exclusive Video Content & 2 Free Ministry Growth E-Books When You Enter Your Name & Email! What An Experienced Church Consultant Can Do

Help you clarify your church's core vision, mission, values, and priorities.
Help you assess the gap between your vision and reality.
Help you and your ministry team more effectively allocate church resources.
Help you reduce pastoral fatigue and burnout through a process of identifying and resolving hidden problems.
Provide a confidential sounding board for you and your leadership team.
Help you engage your audience more effectively.
Do you need an outside set of eyes to help your ministry team overcome some obstacles? Learn more about our church strategy consulting and church marketing consulting services.
How To Find The Right Consultant For Your Church
---
Equal Focus On Vision & High-Level Implementation
A professional consultant will focus equally on the big-picture vision and the implementation of that vision.
Many consultants focus too heavily on the high-level strategy or the specific implementation.
This is problematic because without a clear mission and vision (high-level strategy) any implementation will take your church in the wrong direction.
Conversely, if you have lots of high-level strategies but not enough implementation, then nothing happens at all.
An experienced consultant will be able to offer a healthy balance between both areas of consulting.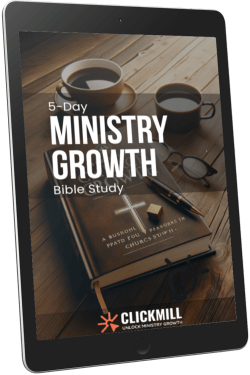 Get Your Exclusive 5-Day Ministry Growth Bible Study!
Get 3+ Hours Of Exclusive Video Content & 2 Free Ministry Growth E-Books When You Enter Your Name & Email! Specialized Training in Your Area of Need
Each consultant is different, so it's important to identify which consultants have experience working with churches that have faced similar challenges as yours.
Do you want someone with years of experience or are you more interested in learning from someone new?
Church Consultants have different backgrounds and approaches to working with churches.
Some consultants come fresh out of seminary while others may be public speakers, authors, ministry leaders, or marketing specialists.
For example, if you want help with digital strategy, make sure the consultant has a proven track record in helping churches move forward with their digital goals.
You can ask trusted colleagues and other church leaders who have worked with ministry consultants – who were able to successfully implement needed changes in their churches.
Find a consultant that both matches your vision for the future of the ministry and has proven success in leading churches to move forward in their initiatives.
Denominational Compatibility
When choosing a Church Consultant you will want to make sure that they are denominational compatible with your church.
It is important for a consultant to be familiar with the beliefs and mission of your denomination, as they will likely need to work closely with denominational leaders in the process of helping you implement needed change.
Some Church Consultants are highly aligned with a single denomination. Others are more denominational-agnostic and can work for churches across a wide variety of Christian denominations.
Be sure you find and choose a consultant that understands how to work with your denomination.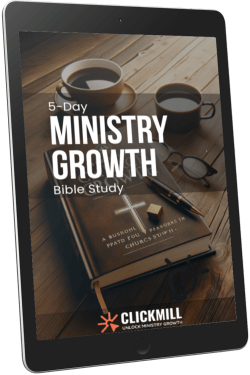 Get Your Exclusive 5-Day Ministry Growth Bible Study!
Get 3+ Hours Of Exclusive Video Content & 2 Free Ministry Growth E-Books When You Enter Your Name & Email! Experience Working With Your Church Size
Churches of different sizes face unique challenges. The needs of a 500 member congregation are very different from the needs of a 10,000 member congregation.
It's important that your consultant has experience working with churches that look very similar to yours and have faced many of the same challenges that yours does.
For example, if your church is in the range of 50 to 250 people, then you will want to ensure that your consultant has experience working with small churches.
In-Depth Assessments
Many Church Consultants jump right in using their "proven method" before they have fully understood the needs and challenges of your church.
This can result in an ineffective change or even worse, complete failure. Make sure you find a consultant who takes time to do an extensive needs assessment before implementing any methodologies.
A good way to check if a consultant is evaluating you based on their preferences instead of on your actual needs is to make sure they have meetings with all parts of your ministry team (including staff, families, volunteers, etc.).
You don't want to hire someone who will implement changes that they want to see rather than what your congregation wants and needs.
This means that one of the best ways to vet a consultant in the early phases of your partnership with them is to pay attention to how much they talk vs how much they listen.
Church Consultants that jump to fix problems before developing a deep understanding of your ministry will most likely do more harm than good.
The most experienced consultants for churches can adapt to the problems your church is facing at any point in the church consulting process.
Even more important than doing an initial evaluation, is for a consultant to work with you through the entire implementation process.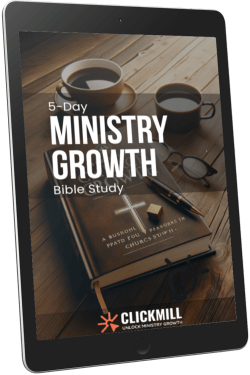 Get Your Exclusive 5-Day Ministry Growth Bible Study!
Get 3+ Hours Of Exclusive Video Content & 2 Free Ministry Growth E-Books When You Enter Your Name & Email! Is Coaching & Training Included In Church Consulting
Many Church Consulting firms will sell you a preset church consulting package but won't include one-on-one coaching when you need it most.
This means you will incur additional fees if you want to receive additional assistance during or after they have completed their initial church consulting work with you.
Church change is a process, not an event. Find a Church Consultant who is more interested in a long-term relationship with you than a one-off project.
** If you would like digital marketing training or strategic ministry training, check out our page on our ministry training services.
Church Consultant Pricing
Church Consultants have a range of prices under which they will work. Consultants with lower prices may skimp on the research and design of a church consulting project, skipping steps that would normally be included in the higher-priced packages.
Consultants can also charge extra fees for additional services such as coaching or training your team after implementation is complete.
If you plan to hire a consultant, you must find out exactly how much the entire project will cost before you begin working together.
This way there are no hidden costs when you are down the road making changes and implementing new programs within your ministry.
Church consulting pricing may seem like just another cost of doing business but remember that hiring someone whose resume matches what you're looking for is an investment in the future growth of your ministry.
Biblically Based Church Consulting
When hiring a Church Consultant, it will be important to know if they base their approach on what the Bible says or on what experts in Church Growth, Church Marketing, and Church Administration have to say.
There are a lot of great Church Consultants out there but you want to do your homework because an approach based on theory, rather than scripture, may not be effective for growing your church.
Clear Church Consulting Process
If you are considering a consultant, be sure to ask if they have a clearly defined step-by-step process for implementing church consulting projects.
Church Consultants may have the tools and experience to design a program for your ministry but if they don't have a strong process, it will be impossible for them to help implement any changes successfully.
Church Consultants should lead you through the consultation process step by step to keep everyone on track with project timelines and goals.
When looking for a consultant that will work effectively with you, ask what their process is from beginning to end. Do you get weekly or monthly check-ins?
Is there an established time frame to complete each step of the project? If so, this is good evidence that they know how to execute change in your organization without creating chaos.
The Attentiveness of the Church Consultant
During the initial meetings with a prospective consultant, you will want to gauge how attentive and responsive the consultant is to your interactions.
Are they on time, prepared, and responsive to your questions?
Church consulting takes a lot of time so having someone who communicates effectively and who is available to you will be important throughout the church consulting process.
How a Church Consultant demonstrates this early on is a good indicator of how they will work with you down the road.
Church consulting is like any other professional relationship in that you will need to be able to communicate effectively and respond quickly to each other.
Find a consultant who is invested in your vision, not just a one-time paycheck for their church consulting services.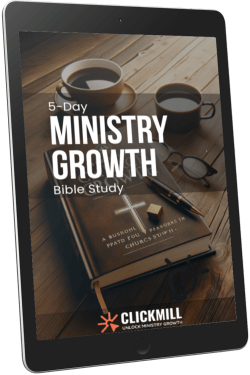 Get Your Exclusive 5-Day Ministry Growth Bible Study!
Get 3+ Hours Of Exclusive Video Content & 2 Free Ministry Growth E-Books When You Enter Your Name & Email! Types of Church Consultants
There are a few categories of consultants you may want to consider when hiring someone to partner with your organization.
Church Consultants specialize in the following areas:
Church Growth Consultant
Church Marketing Consultant
Church Staffing For Growth
Small Church Consulting
Church Administration
Church Safety Consultants
Church Branding Consultants
Church Technology Consultants
Church Lighting Consultant
Church Design Consultant
Church Leadership Consultant
Church Construction Consultant
Church Sound Consultant/ Church Audio Consultant
Confidentiality & Church Consulting
Before hiring a Church Consultant, you will want to make sure the Church Consultant is bound by a confidentiality clause that protects your church.
Consultants may be privy to sensitive information about your church, so you want to be sure they are going to protect your privacy and uphold the release agreement you sign when working with them.
Church Consultants should only share information with other staff members under certain conditions and should never disclose anything without your consent.
All communication between you and the church consulting firm should remain confidential as well (including emails).
If you're looking for church consulting firms, learn more about our consulting services HERE.
Here is what Dr. John had to say about Clickmill's Church Consulting Services.
What other questions do you have about church consulting?
Leave a comment below and we will respond!