Have you ever explored making disciples' scripture verses?
What is the secret to understanding and embodying the essence of discipleship?
How can these revered verses inspire us to become disciples ourselves and fulfill the Lord's command to make disciples of all nations?
If any of these questions resonate with you then you're in the right place.
Join us as we embark on this journey, where we will navigate the depths of discipleship, guided by the profound wisdom of Matthew 28:19-20 and other pivotal scriptures.
"Therefore go and make disciples of all nations, baptizing them in the name of the Father and of the Son and of the Holy Spirit, and teaching them to obey everything I have commanded you. And surely I am with you always, to the very end of the age."
The Profound Importance of Making Disciples
Discipleship is not merely a spiritual duty but a profound calling deeply rooted in Scripture.
In the gospel of Matthew, specifically in Matthew 28:19-20, we find the very essence of this commission.
The words are not a casual request; they are a direct command from Jesus Himself.
When He commissions His disciples to make more disciples, He places a significant responsibility on the shoulders of every believer.
This command underscores the importance of passing on the faith and nurturing others in their journey with Christ.
Discipleship is a two-way street.
It's not only about leading others but also about personal growth.
As you immerse yourself in Scripture, you embark on a journey of growth and revelation.
The more you understand and apply God's Word (creating fruit in your life), the more equipped you are to disciple others effectively.
Matthew 28:19-20 is often referred to as the Great Commission, and it lies at the heart of the Christian mission.
By adhering to this command and making disciples through Scripture, you are actively participating in fulfilling Christ's mission on Earth.
This isn't just important; it's a great privilege and deep responsibility.
When you invest in making disciples you leave a lasting legacy.
The individuals you disciple will, in turn, disciple others, creating a ripple effect of spiritual growth and transformation.
Making disciples is not merely a religious task, it's a calling for every believer.
It's a commandment from our Lord and a means of enhancing the gospel in many aspects.
Embrace this mission with passion and purpose and discover what true discipleship looks like.
Discipleship With Authentic Communication
Before we delve into the key attributes of a disciple, let's first understand the importance of crafting an environment where authentic communication thrives.
Just as a gardener tends to the soil before planting seeds, disciples must cultivate a nurturing atmosphere for growth.
This environment is one where positive communication skills like honesty, openness, and active listening are encouraged, while toxic communication behaviors such as blaming, shaming, and judgment are actively avoided.
Now, let's explore the key qualities that define a disciple and how they contribute to this nurturing environment.
1. Faith and Belief (Hebrews 11:1)
"Now faith is confidence in what we hope for and assurance about what we do not see."
At the core of discipleship lies faith and belief, a deep-rooted trust in the teachings of Christ. This unwavering faith serves as the bedrock for authentic communication. It enables disciples to speak from a place of conviction and openness, fostering an environment where trust and understanding flourish.
2. Humility (Matthew 18:4)
"Therefore, whoever takes the lowly position of this child is the greatest in the kingdom of heaven."
Humility is a cornerstone of authentic communication. It involves setting aside pride and ego, creating a space where disciples can engage in honest dialogue. A humble disciple can admit shortcomings, ask questions, and learn from others without fear of judgment. This humility encourages open, non-judgmental conversations.
3. Compassion (Colossians 3:12)
"Therefore, as God's chosen people, holy and dearly loved, clothe yourselves with compassion, kindness, humility, gentleness and patience."
Compassion is the empathetic bridge that connects disciples. It enables them to understand and resonate with each other's struggles. By embracing compassion, disciples create an environment where others feel safe to share their experiences openly. It fosters empathy and a sense of belonging.
4. Teachable Spirit (Proverbs 9:9)
"Instruct the wise and they will be wiser still; teach the righteous and they will add to their learning."
A teachable spirit is a foundational attribute of discipleship. It fuels the desire to learn and grow, making room for honest questions and seeking understanding. Within an environment where disciples possess this quality, curiosity thrives, and judgments are set aside in favor of mutual growth and learning.
5. Love (John 13:34-35)
"A new command I give you: Love one another. As I have loved you, so you must love one another. By this everyone will know that you are my disciples, if you love one another."
Love, as Christ commanded, is the driving force behind authentic communication. When disciples interact with love, they promote positivity, kindness, and authentic, judgment-free conversations. Love creates an environment where individuals are free to express themselves without fear of condemnation.
6. Forgiveness (Ephesians 4:32)
"Be kind and compassionate to one another, forgiving each other, just as in Christ God forgave you."
Forgiveness is a vital attribute that maintains a healthy disciple environment. It breaks the toxic cycle of blame and judgment, allowing individuals to move forward in love and reconciliation. An environment characterized by forgiveness fosters open communication, healing, and growth.
7. Transparency (James 5:16)
"Therefore confess your sins to each other and pray for each other so that you may be healed. The prayer of a righteous person is powerful and effective."
Transparency is the hallmark of authentic communication. It involves a commitment to openness and honesty. In an environment where transparency thrives, disciples feel safe to share their struggles and triumphs. This level of vulnerability cultivates trust and meaningful connections.
8. Encouragement (1 Thessalonians 5:11)
"Therefore encourage one another and build each other up, just as in fact you are doing."
Encouragement plays a pivotal role in creating a positive environment. Disciples should uplift one another, offering constructive feedback and motivation for growth. When disciples encourage each other, they inspire confidence and provide support for the journey.
9. Patience (Galatians 5:22-23)
"But the fruit of the Spirit is love, joy, peace, forbearance, kindness, goodness, faithfulness, gentleness and self-control. Against such things there is no law."
Patience is a cornerstone of authentic communication. It allows for thoughtful listening and understanding, reducing the likelihood of misunderstandings and judgment.
In an environment where patience is practiced, disciples give each other the time and space to express themselves fully.
10. Respect (Romans 12:10)
"Be devoted to one another in love. Honor one another above yourselves."
Respect is a fundamental attribute that underpins positive communication. It involves valuing one another's opinions, experiences, and personal journeys. In an environment characterized by respect, disciples create a culture of acceptance and openness, fostering honest and meaningful conversations.
Within these key environments, disciples can nurture growth, understanding, and unwavering faith as they fulfill the Lord's command to make disciples of all nations.
Nurturing Disciples for Lasting Change
It's crucial to recognize that Jesus Himself employed a focused and intentional approach to fulfilling this same commission of making disciples.
He certainly spoke to the masses, but His deepest impact emerged from His dedication to nurturing disciples in smaller, more intimate groups.
Jesus' approach was not about reaching everyone at once, but rather investing deeply in the few.
Mark 3:13-15 (NIV): "Jesus went up on a mountainside and called to him those he wanted, and they came to him. He appointed twelve that they might be with him and that he might send them out to preach and to have authority to drive out demons."
In this passage, we see Jesus intentionally selecting the twelve disciples, not just for a specific mission but, notably, "that they might be with him."
This verse highlights Jesus' focus on building a close, personal relationship with a smaller group of individuals.
These disciples were to share not only in His teachings and ministry but also in His life.
The Power of Focusing on Fewer: The 72, The 12, The 3
Jesus began with the masses, but then He honed His attention on the 72, who were entrusted with the mission of spreading the Gospel.
Within this group, He selected the 12, His closest companions and core disciples, for even deeper training and relationship-building.
Among the 12, Jesus had His inner circle of 3—Peter, James, and John—whom He shared more intimate moments, such as the transfiguration and Gethsemane.
By choosing a smaller group, Jesus could provide them with more personalized attention, teachings, and experiences.
He recognized that deep, authentic relationships with a few would ultimately enable them to carry forward His message effectively to others.
This approach emphasizes the value of quality over quantity in discipleship.
It's not about reaching the masses in a superficial manner but about nurturing a committed few who would, in turn, make a profound impact on the world.
Through intimate moments like the transfiguration and Gethsemane, Jesus demonstrated the importance of vulnerability, trust, and depth in these relationships.
This verse from Mark serves as a powerful illustration of Jesus' intentional and focused approach to discipleship, which continues to be a model for how we can cultivate lasting, transformative relationships with those we mentor today.
This deliberate approach teaches us a profound lesson: the power of personalization and authentic relationship-building.
It's not about reaching the largest audience but about deeply impacting a smaller, committed group whose needs you can truly address.
Here's how these principles relate to the key attributes of a disciple:
1. Disciples Must Love: Just as Jesus loved His disciples intimately, we too must love those we disciple. Love is the foundation of authentic relationships, and it's in these relationships that true transformation occurs.
2. Disciples Must Sacrifice: Jesus sacrificed His time, energy, and even His life for His disciples. Discipleship involves sacrifice, a willingness to invest deeply in the growth of others, often at the expense of personal comfort.
3. Disciples Must Obey: Jesus taught His disciples to obey His commands. Similarly, disciples must be obedient to the teachings of their mentors, following their guidance with trust and humility.
4. Disciples Must Make More Disciples: The ultimate goal of discipleship is to multiply. Just as Jesus entrusted His disciples with the mission to make more disciples, we too must carry forward this legacy, nurturing others in their faith and calling them to do the same.
By focusing our attention on fewer individuals, we can offer more personalized guidance and support.
This approach creates an atmosphere where disciples can ask questions, seek understanding, and share their struggles openly.
It fosters a sense of belonging and accountability, making it more likely that the lessons learned in discipleship will lead to lasting change.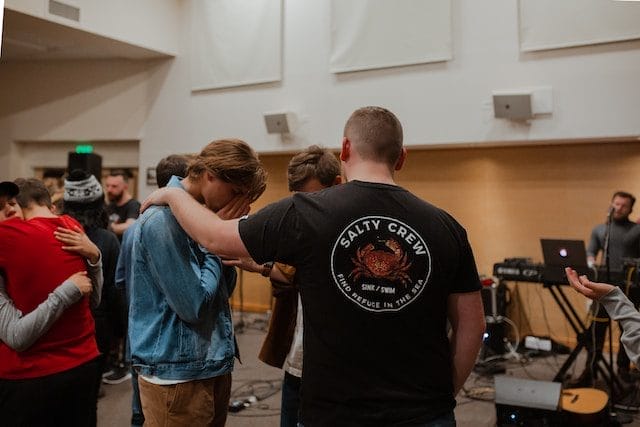 Discover more in-depth on how Jesus embodied the very essence of discipleship.
Now let's look at other making disciples scripture verses in the bible.
10 Making Disciples Scriptures:
#1 Making Disciples Scripture
"Come, follow me," Jesus said, "and I will send you out to fish for people." Matthew 4:19 (NIV)
#2 Making Disciples Scripture
"The student is not above the teacher, but everyone who is fully trained will be like their teacher." Luke 6:40 (NIV)
#3 Making Disciples Scripture
"And the things you have heard me say in the presence of many witnesses entrust to reliable people who will also be qualified to teach others." 2 Timothy 2:2 (NIV)
#4 Making Disciples Scripture
"This is to my Father's glory, that you bear much fruit, showing yourselves to be my disciples." John 15:8 (NIV)
#5 Making Disciples Scripture
"They preached the gospel in that city and won a large number of disciples. Then they returned to Lystra, Iconium, and Antioch, strengthening the disciples and encouraging them to remain true to the faith." Acts 14:21-22 (NIV)
#6 Making Disciples Scripture
"The Pharisees heard that Jesus was gaining and baptizing more disciples than John." John 4:1 (NIV)
#7 Making Disciples Scripture
"He is the one we proclaim, admonishing and teaching everyone with all wisdom, so that we may present everyone fully mature in Christ." Colossians 1:28-29 (NIV)
#8 Making Disciples Scripture
"Follow my example, as I follow the example of Christ." 1 Corinthians 11:1 (NIV)
#9 Making Disciples Scripture
"And if anyone gives even a cup of cold water to one of these little ones who is my disciple, truly I tell you, that person will certainly not lose their reward." Matthew 10:42 (NIV)
#10 Making Disciples Scripture
"Remember your leaders, who spoke the word of God to you. Consider the outcome of their way of life and imitate their faith." Hebrews 13:7 (NIV)
These verses collectively emphasize the importance of making, nurturing, and maturing disciples as an integral part of the Christian faith.
To read more making disciples scripture verses, check out our post on 50 Impacting Bible Verses about Discipleship.
In conclusion, while the Great Commission urges us to reach all nations, Jesus' example teaches us the power of intimate discipleship.
By investing deeply in a few, we can cultivate authentic relationships, nurture love, encourage sacrifice, instill obedience, and multiply disciples, ultimately leading to lasting transformation in the lives of those we mentor.
Making Disciples Scripture: FAQs
Q: What is the core message of Matthew 28:19-20? 
Matthew 28:19-20 emphasizes evangelism, baptism, and teaching as the core components of discipleship.


Q: How can I create an authentic environment within my church?
Building authenticity involves fostering a welcoming, loving, and non-judgmental atmosphere where individuals feel safe to grow spiritually.


Q: What are some effective communication strategies? 

Effective communication includes active listening, empathy, and open dialogue with church members.


Q: What role does social media play in discipleship today? 

Social media can be a powerful tool for outreach, community engagement, and sharing the message of Christ effectively.


Q: How can positive communication skills, as mentioned in the article, enhance the discipleship journey?

Positive communication skills such as active listening, empathy, openness, and respectful language create an environment where disciples feel heard, valued, and understood. These skills promote trust, transparency, and meaningful connections, enhancing the discipleship experience and nurturing genuine relationships.


Q: Why did Jesus focus on a smaller group of disciples, like the 12 and the 3, rather than reaching out to the masses directly?

Jesus focused on a smaller group of disciples because it allowed for deeper and more personalized relationships. By investing deeply in a few, He could provide more intimate guidance, foster authentic communication, and ensure lasting change within a committed community.