Are you seeking effective methods on how to spread the gospel and reach the lost in today's modern society?
Then you're in the right place.
The voyage of faith is personal yet expansively communal.
Sharing one's faith or spreading the gospel isn't merely a call of duty, but a longing to see lives transformed.
The ethos of evangelism lies in the heart of understanding the core message of the gospel and effectively communicating it within your community and beyond.
This article unpacks the essence of sharing the gospel, communication skills to adopt, biblical approaches to sharing the gospel, and leveraging modern platforms to amplify this message of hope.
So, let's get started.
#1 What does Spread the Gospel Mean?
What does the phrase "spreading the gospel" really entail?
Essentially "spreading the gospel" is the sharing of the good news of Jesus Christ.
It's a venture of expressing the love, salvation, and promises of God to others.
The gospel at its core is the narrative of Jesus' life, death, and resurrection, offering hope and redemption to mankind.
Having a solid and biblical foundation of what the gospel message entails is paramount to effectively spreading the good news with others.
The foundational principles of the gospel encompass the following truths:
1.God, as the sovereign and creator of the cosmos, harbors love for all of humanity.
2.The chasm between humanity and God has been forged by sin, ushering in the inevitability of death and judgment.
3.Jesus Christ, the embodiment of God in flesh, graced the earthly realm in human likeness to live out a life of purity and to offer himself on the crucifix as an atonement for the sins of humanity.
4.Through a steadfast belief in Jesus, individuals can mend the rift and separation with God and receive forgiveness covering all their sins.
5.Triumphing over death and sin, Jesus resurrected, pronouncing his dominion over mortality and sin, with a promise to return for the judgment of all souls.
6.The promise of eternal life and intimate relationship with God awaits those who entrust their faith in Jesus and voyage along this path, following His commands and teachings.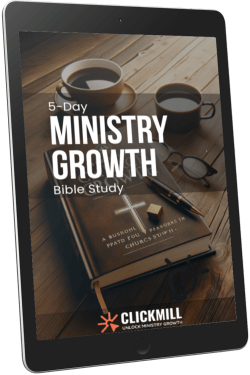 Get Your Exclusive 5-Day Ministry Growth Bible Study!
Get 3+ Hours Of Exclusive Video Content & 2 Free Ministry Growth E-Books When You Enter Your Name & Email! #2 Biblical Foundation for How to Spread the Gospel
The biblical foundation for understanding how to share the gospel is deeply rooted in the scriptures.
Mark 16:15 serves as a pivotal reference, where Jesus declares:
"Go into all the world and preach the gospel to all creation"
This verse not only captures the essence of evangelism but also underscores the imperative of learning how to spread the gospel.
It's a divine call to action, urging believers to venture beyond their comfort zones in spreading the gospel.
Upon embracing the free gift of salvation, it's time to share our testimony of love, devotion, and transformation with others, believing we too will witness a similar change in the lives of others as well.
Through biblical teachings and study of the scripture, individuals can glean insights on how to spread the gospel effectively, embodying the love and redemption it signifies.
Furthermore, the scriptures offer a reservoir of inspiration and guidance for those embarking on the journey of learning and implementing how to spread the gospel.
The narrative of Jesus' life, his teachings, and the apostles' efforts in spreading the gospel serve as monumental examples for modern-day believers.
Let's take a look at just a few of these biblical examples.
10 Bible Verses to Spread the Gospel
"Therefore go and make disciples of all nations, baptizing them in the name of the Father and of the Son and of the Holy Spirit"
"And this gospel of the kingdom shall be preached in all the world for a witness unto all nations; and then shall the end come"​
3. Psalms 96:3
"Declare his glory among the nations, his marvelous deeds among all peoples."
"Praying also for us, that God would open unto us a door of utterance, to speak the mystery of Christ, for which I am also in bonds"​
5. Acts 6:7
"And the word of God increased; and the number of the disciples multiplied in Jerusalem greatly; and a great company of the priests were obedient to the faith"​
6. Mark 13:10
"And the gospel must first be published among all nations"​
7. Acts 1:8
"But you will receive power when the Holy Spirit comes on you; and you will be my witnesses in Jerusalem, and in all Judea and Samaria, and to the ends of the earth."
8. Romans 1:16
"For I am not ashamed of the gospel, because it is the power of God that brings salvation to everyone who believes: first to the Jew, then to the Gentile."
"How then shall they call on him in whom they have not believed? And how shall they believe in him of whom they have not heard?and how shall they hear without a preacher? And how shall they preach, except they be sent? As it is written, How beautiful are the feet of them that preach the gospel of peace, and bring glad tidings of good things!"
10. Luke 4:18-19
"The Spirit of the Lord is on me, because he has anointed me to proclaim good news to the poor. He has sent me to proclaim freedom for the prisoners and recovery of sight for the blind, to set the oppressed free, to proclaim the year of the Lord's favor."
As we navigate the modern world, these timeless scriptures provide the guidance and inspiration necessary to actively spread the gospel.
Each verse is an invitation to action, a call to embody the teachings of Christ in our evangelism endeavors.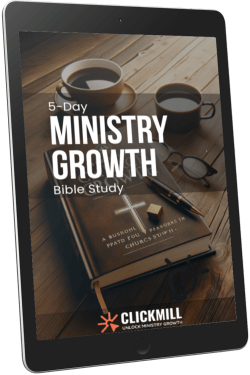 Get Your Exclusive 5-Day Ministry Growth Bible Study!
Get 3+ Hours Of Exclusive Video Content & 2 Free Ministry Growth E-Books When You Enter Your Name & Email! #3 How to Spread the Gospel
There are many avenues to spreading the gospel but what is essential is the way in which we approach our evangelism efforts.
Healthy communication skills are pivotal in creating a receptive environment where the message of the gospel can be shared and received effectively.
By following an effective approach that is respectful and engaging we can significantly enhance the impact and reach of the gospel.
Step 1: Build Trust
Building trust is the cornerstone of effective communication. When it comes to spreading the gospel, it's essential to establish a rapport with the individual. Get to know them, engage with them in meaningful conversations, show empathy towards their situations, and genuinely care for their needs. Demonstrating understanding and compassion not only builds trust but also creates an open gateway to sharing the gospel. Someone needs to trust us before considering our opinions, having this trust in place makes for a great space to be open about the Christian faith with non-believers.
Step 2: Meet Needs
In today's fast-paced world, many yearn to be heard. Before sharing the Gospel, consider the power of listening. In personal interactions, attentive listening can be life-changing, laying a foundation for trust. It will also allow us to stop and hear what challenges, problems or issues people are facing and provide an opportunity for us to address those needs in the lives of individuals. This act of meeting needs often leads to deeper discussions, potentially creating a conducive environment for evangelistic conversations. In broader ministry contexts, addressing the congregation's collective needs fosters a sense of belonging, deepening the bond between ministry leaders and members. This communal care not only enhances receptivity to spiritual teachings but also amplifies the ministry's impact, as members are inspired to extend this care outward.
Step 3: Create Reciprocity
Reciprocity is about mutual exchange and understanding. The Law of Reciprocity suggests that when someone generously gives to another, the recipient often feels an innate, strong urge to give back to the giver. Meeting someone's needs typically elicits a desire within them to reciprocate the gesture. Also, attending to an individual's needs means they're more likely to be receptive to what you have to share. It creates a platform of mutual respect and openness, which is crucial when sharing the gospel. This step reinforces the notion that evangelism is not merely about preaching but about creating a two-way interaction.
Step 4: Create Cognitive Dissonance
Creating cognitive dissonance is about provoking thought and self-reflection. By introducing ideas that might challenge their existing beliefs in a respectful manner, you pave the way for meaningful discussions about the gospel. This step encourages individuals to explore the gospel as a means to fulfill their spiritual needs, question existing and even possibly conflicting beliefs allowing deeper understanding and connection to the gospel message being shared.
Step 5: Ask For Permission
Seeking permission before delving into religious discussions is a mark of respect and consideration. It acknowledges the individual's readiness to engage in such conversations. Asking for permission also ensures they feel comfortable and ready to explore the gospel. This respectful approach lays a solid foundation for sharing the gospel in a manner that is considerate of the individual's personal boundaries.
Each of these steps underscore the importance of addressing the individual's needs, which is central to creating a meaningful and respectful dialogue about the gospel.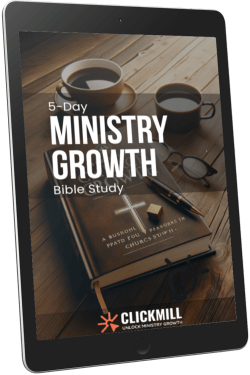 Get Your Exclusive 5-Day Ministry Growth Bible Study!
Get 3+ Hours Of Exclusive Video Content & 2 Free Ministry Growth E-Books When You Enter Your Name & Email! #4 Different Ways to Spread the Gospel
In order to effectively spread the gospel to those around we must begin by modeling the actions Jesus showed us in the scriptures.
Throughout His life, Jesus exemplified meeting physical needs as a gateway to addressing spiritual needs.
In the miraculous feeding of the 5,000 (Matthew 14:13-21), Jesus first satisfied the crowd's hunger and sickness (physical need) before teaching them and addressing the greater issue at hand (spiritual need).
"When Jesus heard what had happened, he withdrew by boat privately to a solitary place. Hearing of this, the crowds followed him on foot from the towns. When Jesus landed and saw a large crowd, he had compassion on them and healed their sick.
As evening approached, the disciples came to him and said, "This is a remote place, and it's already getting late. Send the crowds away, so they can go to the villages and buy themselves some food."
Jesus replied, "They do not need to go away. You give them something to eat."
"We have here only five loaves of bread and two fish," they answered.
"Bring them here to me," he said. And he directed the people to sit down on the grass. Taking the five loaves and the two fish and looking up to heaven, he gave thanks and broke the loaves. Then he gave them to the disciples, and the disciples gave them to the people. They all ate and were satisfied, and the disciples picked up twelve basketfuls of broken pieces that were left over. The number of those who ate was about five thousand men, besides women and children."
This act demonstrates that by attending to deeply felt needs, we create a pathway for effective evangelism.
However, it's not always about verbal evangelizing; sometimes, meeting physical needs without a gospel proclamation speaks volumes about God's love and provision.
By embodying the lifestyle, love and care of Jesus we in turn leave a profound impact and a conducive environment for sharing the gospel.
Through such actions, the essence of the gospel is communicated, paving the way for deeper spiritual engagements.
By emulating Jesus' approach of meeting immediate needs, we demonstrate the practical and compassionate side of faith.
It's an invitation to experience God's love in tangible ways, which can then open doors to deeper spiritual conversations – including sharing the good news of Christ.
This approach reflects the encompassing love and care embodied in the gospel, thus making evangelism more effective and relatable to others.
If you want to discover more approaches to sharing the gospel, check out our article "Creative Ways to Evangelize".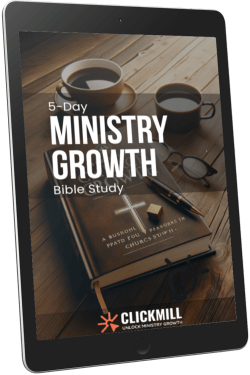 Get Your Exclusive 5-Day Ministry Growth Bible Study!
Get 3+ Hours Of Exclusive Video Content & 2 Free Ministry Growth E-Books When You Enter Your Name & Email! #5 Utilizing Modern Platforms
Evangelism Through Digital Platforms: Digital platforms offer a broad avenue to spread the gospel far and wide. Websites, social media channels, podcasts and online communities provide a platform to share biblical teachings, personal testimonies, and other faith-nurturing content. If you want to explore insightful strategies on how to reach larger audiences online check out our article: Church Digital Evangelism.
Hosting Community and Ministry Events: Community and ministry events serve as physical platforms to meet people's needs and share the gospel. By organizing events that cater to local needs or ministry themes, you create a safe and welcoming environment for sharing and discussing the Christian faith.
Street Evangelism: Street evangelism involves engaging with individuals in public spaces, sharing personal testimonies, and addressing questions about faith. It's a hands-on approach that allows for personal interaction and the opportunity to meet immediate needs, reflecting Jesus' approach of meeting physical needs.
Sermon Preaching: Sermon preaching is a traditional yet powerful method to spread the gospel. In today's digital age, sermons can be streamed online, reaching a global audience. Furthermore, original sermon content can be repurposed across various social media outlets, ensuring the message resonates far and wide. This approach not only sustains the essence of traditional evangelism but also leverages modern platforms to amplify the gospel's reach and impact.
Tailored Approaches: Every individual is unique, and thus a tailored approach in evangelism is key. For the intellectual, engaging in apologetics can provoke thought and discussion. A relational approach, focused on building genuine relationships, may resonate more with community-oriented individuals. On the other hand, a spiritual approach, focused on prayer and spiritual discussions, may appeal to those seeking a deeper spiritual connection.
#6 How to Spread the Gospel as a Kid: Resources for children
Instilling the art of evangelism in children is the beginning of planting seeds for a future thriving in faith.
"Start children off on the way they should go, and even when they are old they will not turn from it." Proverbs 22:6
It's crucial to provide the right resources and guidance on how to spread the gospel as a kid, nurturing their spiritual growth from a tender age.
Various resources such as child-friendly books, interactive online materials, and engaging workshops specifically designed for children can be extremely beneficial.
These resources offer a gentle introduction to the gospel and provide a platform for kids to learn and share the word of God in a manner that's enjoyable and relatable to them.
Engaging children in discussions about faith in the family home, encouraging their curiosity, and exploring answers together will pass down the testimony of God's goodness and faithfulness from one generation to another.
It's also beneficial to involve them in community or church activities where they can observe and participate in evangelism in a practical and interactive manner.
This hands-on experience not only enhances their understanding but also builds their confidence in sharing the gospel.
Encouraging children to share their faith with friends, whether it's through stories, drawings, or simple conversations, can also be a good starting point.
It's important to emphasize the love, kindness that the gospel promotes, making it a positive and enriching experience for them.
Additionally, fostering a supportive community of other children engaged in learning and sharing the gospel can provide a sense of belonging and encouragement.
This communal learning experience can significantly enhance their engagement and retention of gospel teachings, making the process of evangelism more enjoyable and impactful.
Ultimately, the goal is to foster a loving and supportive environment where children can freely explore and share their faith, laying a solid foundation for their own spiritual journey and evangelism endeavors as they mature.
Through these concerted efforts, we are nurturing the next generation of believers, equipped and enthusiastic about spreading the gospel.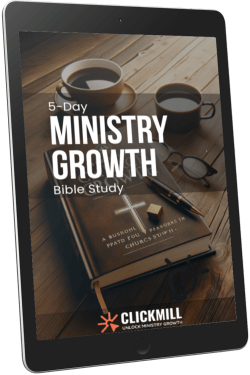 Get Your Exclusive 5-Day Ministry Growth Bible Study!
Get 3+ Hours Of Exclusive Video Content & 2 Free Ministry Growth E-Books When You Enter Your Name & Email! #7 Evangelism Training
Evangelism, just like any other skill-based pursuits, demands a well-rounded training environment to foster proficiency and effectiveness.
The essence of evangelism training lies in its ability to provide a robust foundation, equipping you with refined strategies and methodologies to share the gospel.
Just as a musician hones their craft or an athlete trains for peak performance, evangelism training nurtures your ability to communicate the gospel compellingly and respectfully.
The pathway of evangelism training is a nurturing ground where mistakes are welcomed as catalysts for growth.
Every misstep is viewed as a learning opportunity, a stepping stone towards becoming adept in the art of evangelism.
The environment encourages exploration, reflection, and continuous learning.
This culture of growth and learning echoes the broader Christian ethos of forgiveness, learning, and continuous improvement.
A well-structured evangelism training program encompasses a blend of theoretical knowledge and practical application.
It unveils the rich tapestry of evangelism, from understanding biblical principles to engaging in modern-day evangelism strategies.
The training often includes interactive workshops, practical exercises, and feedback sessions, which are instrumental in refining your evangelism skills.
These sessions offer a safe space to practice, make mistakes, learn, and grow.
Furthermore, engaging in evangelism training isn't a solitary endeavor but a communal one.
It offers a platform to interact with like-minded individuals, share experiences, learn from others, and build a supportive network.
This camaraderie among trainees fosters a sense of community and shared purpose, enriching the training experience.
Investing in evangelism training is investing in a future where you are better equipped, confident, and effective in spreading the gospel.
It's an invitation to not just enhance your evangelism skills, but to embark on a journey of personal and spiritual growth.
Explore our evangelism training for churches today, and take a significant step towards becoming a proficient evangelist, ready to make a positive impact in your community and beyond.
The journey of spreading the gospel is a blend of personal spiritual growth, community engagement, and leveraging modern platforms.
It's a journey filled with learning, challenges, and profound rewards.
Embracing this voyage with an open heart and a prepared mind can lead to a transformative experience, not just for the individual evangelist, but for the communities they engage with.
How to Spread the Gospel: FAQ's
Q. What are some effective ways to spread the gospel?
Engaging with the community, utilizing social media, and collaborating with others are some effective ways to spread the gospel.
Q. How can I overcome fear in evangelism?
Prayer, preparation, and connecting with a support group can help overcome fear in evangelism.
Q. What resources are available for evangelism training?
Various online platforms offer evangelism training to equip individuals with effective strategies.
Q. How can I engage the youth in evangelism?
Creating relatable content, organizing youth-centric events, and providing resources can engage the youth in evangelism.
Q. Can digital platforms replace traditional evangelism methods?
Digital platforms complement rather than replace traditional methods, extending the reach and providing additional avenues to spread the gospel.