If you're eager to dive into the world of women's ministry but are in need of fresh ideas to get started, you've come to the right spot.
From inspiring retreats to engaging events, focused Bible studies, and close-knit small groups, we'll help you discover effective ways to create profound and impactful experiences for the women in your church.
By embracing the purpose and significance of women's ministry, you'll be better equipped to cater to your congregation's distinct needs and leave a lasting imprint on the lives of the women who engage with your initiatives.
So, let's begin to unveil women's ministry ideas that will spark your passion.
Women's Ministry Ideas: Identifying Needs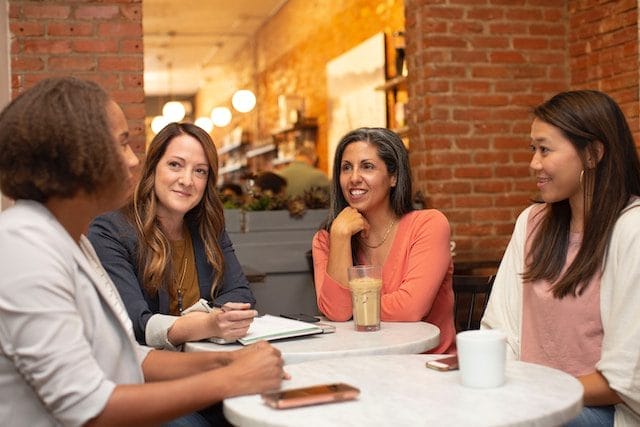 To embark on a successful women's ministry journey, you must first understand the unique needs of the women who will be attending your ministry.
Within any church community, you'll find a diverse group of women who all share a common yearning for fellowship and growth.
Their stories and experiences vary, but their common thread is a profound desire to connect, grow, and deepen their relationship with God and fellow believers.
Many have hearts that are aflame with devotion.
But these women yearn for more than just routine church attendance; they are eager to cultivate deeper bonds within their faith community.
They understand that faith is not a solitary journey but a collective journey enriched by shared moments, heartfelt conversations, and the support of like-minded individuals.
1 Thessalonians 5:11 (NIV): "Therefore encourage one another and build each other up, just as in fact you are doing."
This verse emphasizes the importance of encouraging and supporting one another, all with a desire to witness and be a part of deeper fellowship and growth.
In these women you'll find the enthusiasm to form connections that extend beyond the four church walls.
Their faith is the foundation of their lives, and they are committed to nurturing it.
They hunger for opportunities to delve into Scripture, explore theological concepts, and apply these teachings to their daily interactions and experiences of life.
These women are not merely seeking personal growth; they are also motivated to support one another in their walk with Christ.
They understand the power of a listening ear, a comforting presence, and a helping hand.
Hebrews 10:24 (NIV): "And let us consider how we may spur one another on toward love and good deeds."
We are called to encourage, motivate and inspire each other to acts of love and service, echoing the heart of women's ministry to support one another in one another's walk with Christ.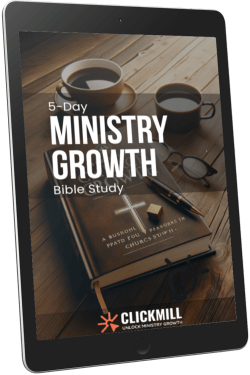 Get Your Exclusive 5-Day Ministry Growth Bible Study!
Get 3+ Hours Of Exclusive Video Content & 2 Free Ministry Growth E-Books When You Enter Your Name & Email! It's within this beautiful tapestry of shared faith and genuine fellowship that your women's ministry will find its purpose and flourish.
Providing a nurturing space for these remarkable women to thrive in their faith and connections.
However, to meet their needs effectively, you'll need to engage with them on a personal level.
Active listening and engagement are paramount.
Host regular meetings, surveys, and focus groups to gather insights directly from the women in your congregation.
Create a safe space where they can voice their concerns, share their aspirations, and express their pains and challenges.
By fostering open dialogue, you'll gain valuable insights that will shape your ministry initiatives.
As you delve deeper into understanding the needs of the women in your ministry, it's crucial to recognize that these needs can extend beyond faith building issues.
Some members of your congregation might be single mothers, facing the challenge of balancing faith and parenthood.
Consider offering a ministry daycare center that not only nurtures their spiritual growth but also provides practical support.
Additionally, there may be widows among your community who are grappling with grief and loss.
A bereavement group can provide them with a safe community to share their experiences and find solace in like-minded individuals.
Mental health groups can also be instrumental for those facing life's myriad challenges, providing a space for healing and support.
Remember, the best women's ministry ideas are formed out of meeting the deepest felt needs, and addressing these practical and emotional needs can further strengthen the bonds within your faith community and women's ministry.
Leveraging Resources for Effective Women's Ministry Ideas
When it comes to establishing a thriving women's ministry within your church, making strategic choices with available resources is paramount.
Whether your church has limited financial means or an abundance of resources, thoughtful decision-making can make all the difference.
Resource Allocation
Optimizing your resources begins with thoughtful allocation.
If your church operates on a tight budget, consider marking a dedicated portion for women's ministry.
However, even with limited financial resources, you can maximize your impact.
Explore creative and cost-effective marketing strategies, such as harnessing the potential of social media platforms.
These platforms offer a cost-efficient way to reach a broader audience, connect with women in your congregation, and promote your ministry initiatives without straining your budget.
Volunteers and Expertise
Beyond financial resources, consider the wealth of skills, talents, and dedication within your congregation.
Engaging volunteers who are passionate about your ministry's vision can be a game-changer.
Harness their expertise in marketing, event planning, or leadership to expand the reach and effectiveness of your women's ministry.
Technology and Collaboration
In an age of technology, don't underestimate the power of digital tools and collaboration.
Leverage technology to connect with your target audience, facilitate virtual gatherings, and share resources efficiently.
Collaborate with other church ministries and organizations to pool resources and amplify the impact of your initiatives.
Sustainability and Growth
Sustainability is key.
Evaluate the long-term sustainability of your ministry ideas and investments.
Focus on initiatives that offer lasting benefits and align with your church's vision.
Consider creating a financial plan that includes revenue sources beyond the church budget, such as fundraising events or partnerships with local businesses.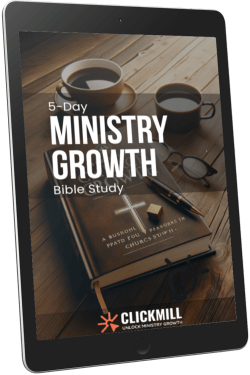 Get Your Exclusive 5-Day Ministry Growth Bible Study!
Get 3+ Hours Of Exclusive Video Content & 2 Free Ministry Growth E-Books When You Enter Your Name & Email! Creating an Open Environment
Lastly, ensure that your resources and initiatives are welcoming and accessible to all women in your congregation, regardless of their financial situation.
Consider providing supported funding or fundraisers for events or activities to make participation more attainable.
By making thoughtful decisions your women's ministry can thrive and make a lasting impact within your church community.
Aligning with Your Women's Ministry Vision
Setting your women's ministry with your church's overarching vision is not merely a suggestion but a cornerstone of long-term success.
It's a process that requires proactive engagement and careful consideration of your church's mission and goals.
Philippians 2:1-2 (NIV): "Therefore if you have any encouragement from being united with Christ, if any comfort from his love, if any common sharing in the Spirit, if any tenderness and compassion, then make my joy complete by being like-minded, having the same love, being one in spirit and of one mind."
This verse underscores the value of unity and being of one mind, which is essential for aligning your ministry with your church's vision.
Let's take a look at some examples:
Regular Communication: Open and consistent communication with church leadership is fundamental. Actively involve church leaders in your women's ministry planning and execution. Share your vision, goals, and progress with them. Seek their guidance and input to ensure that your initiatives align seamlessly with the broader church mission.
Collaborative Synergy: Collaboration among different ministries within your church is where unity and transformation take place. Seek opportunities for engagement with fellow ministry leaders. When different parts of the church body work in concert, it amplifies the impact of your efforts. For instance, collaborate with the youth ministry to engage young women in leadership roles or with the missions ministry to integrate service into your women's ministry initiatives.
Faith Alignment: Rooting your women's ministry deeply in the Christian faith is not just a checkbox—it's the foundation of your ministry. Emphasizing core Christian values and beliefs that deeply resonate with the women in your ministry is paramount.
Biblical Foundation: The Bible is your guidebook. As you begin your ministry's programs, teachings, and activities, ensure they are firmly grounded in biblical teachings and principles. The Bible provides timeless wisdom and guidance, and integrating it into your ministry will connect women to a rich spiritual heritage.
Spiritual Growth: Emphasize spiritual growth and empowerment. Your ministry should be a place where women can deepen their relationship with God and explore their faith in a supportive environment. Create opportunities for them to dive into Scripture, engage in prayer, and nurture their faith walk.
Personal Connection: Recognize that each woman's faith journey is unique. Encourage personal connections with God by fostering an environment that allows women to express their faith authentically. Provide resources and experiences that meet them where they are on their walk with God.
Encourage Widespread Engagement: Acknowledge that women within your congregation may be at different points in their spiritual journeys. Your ministry should welcome and support them all, offering a safe space for growth and exploration.
By strengthening your connection with the church's vision and infusing your women's ministry with deep faith alignment, you create a potent combination that not only enriches the lives of the women you serve but also contributes to the overall growth within your church community.
Looking for more inspiration on how to expand your women's ministry? Check out our post on 38 Impactful Women's Ministry Event Ideas.
Now, let's delve into an extensive list of 40 creative women's ministry ideas.
40 Women's Ministry Ideas
1. Mentorship Programs: Connect seasoned women in the church with newcomers, fostering deep bonds and providing guidance for navigating life's challenges. These mentorship relationships offer a safe space for personal growth and spiritual development.
2. Women's Empowerment Workshops: Host interactive workshops focusing on leadership development, self-confidence building, and goal setting. Empower women to step into leadership roles within the church and community, nurturing their self-esteem and potential.
3. Monthly Prayer Gatherings: Organize monthly gatherings where women can come together to pray, share their joys, and lean on one another during difficult times. These gatherings create a strong network of support and deepen connections.
4. Community Service Projects: Engage women in meaningful community service projects, such as volunteering at local shelters or organizing charity events. These initiatives not only serve the community but also strengthen the bonds among women in the ministry.
5. Women's Retreats: Plan annual retreats set in tranquil natural settings, offering women a space to disconnect from the hustle of daily life and reconnect with God. These retreats provide opportunities for reflection, renewal, and lasting friendships.
Interested in starting up your own Women's Retreat? Check out our post on 38 Lifechanging Women's Retreat Ideas.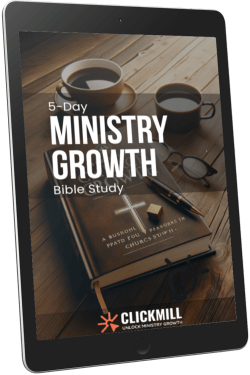 Get Your Exclusive 5-Day Ministry Growth Bible Study!
Get 3+ Hours Of Exclusive Video Content & 2 Free Ministry Growth E-Books When You Enter Your Name & Email! 6. Book Clubs: Establish a women's book club focused on Christian literature. Reading and discussing books that delve into faith can deepen understanding and provide a platform for thought-provoking conversations.
7. Women's Fitness Groups: Promote physical wellness by offering women's fitness groups or classes. These activities encourage healthy lifestyles, bonding through exercise, and emotional well-being.
8. Creative Arts Nights: Organize evenings dedicated to expressing faith through art, music, and drama. These gatherings allow women to explore their creativity while strengthening their connections with like-minded people.
9. Women's Conferences: Host annual conferences featuring inspiring speakers, workshops, and worship sessions. These events provide women with an immersive and uplifting time in worship and engagement.
10. Financial Literacy Workshops: Empower women with financial literacy workshops that equip them with essential financial management skills and promote financial independence and biblically.
11. Support Groups: Create safe spaces where women can openly discuss challenges they face, such as parenting, grief, or mental health. Support groups offer emotional solace and practical advice.
12. Bible Study Circles: Form small groups for in-depth Bible study and discussion, encouraging women to explore Scripture together, share insights, and strengthen their faith.
13. Online Devotionals: Share daily or weekly devotionals through social media and email, providing women with convenient access to spiritual nourishment and reflections.
14. Cooking Classes: Organize cooking classes where women can learn to prepare nutritious meals while bonding over shared culinary experiences and cultural traditions.
15. Women's Leadership Training: Offer leadership training programs that equip women with essential leadership skills for church and community roles, empowering them to take on leadership positions and offering more responsibility.
16. Mission Trips: Engage women in mission work, either locally or internationally, to serve those in need and deepen their sense of purpose and connection with God.
17. Women's Business Network: Foster entrepreneurship and networking among women by creating a supportive business network within the church community.
18. Financial Aid Programs: Establish financial aid programs within the ministry to provide support to women facing economic hardships, helping them overcome financial challenges.
19. Gardening Club: Cultivate a community garden where women can bond over gardening, fostering teamwork and promoting relaxation through nature.
20. Mother-Daughter Retreats: Strengthen family bonds by organizing special retreats where mothers and daughters can grow together in faith and build cherished memories.
21. Tech Training Workshops: Offer digital skills training workshops to bridge the technology gap, empowering women with essential tech skills.
22. Women's Choir: Form a women's choir to enhance worship services, community events, and gatherings with the power of music and harmony.
23. Parenting Seminars: Host seminars that provide practical guidance and support for effective parenting and addressing family dynamics from a Christian perspective.
24. Life Skills Workshops: Offer practical life skills workshops that cover topics like budgeting, time management, and stress reduction, enhancing women's daily lives.
25. Outreach to Single Mothers: Create specialized support and resources for single mothers within the congregation, addressing their unique challenges and needs.
26. Counseling Services: Provide counseling services and emotional support for women facing various challenges, helping them navigate life's complexities.
27. Elderly Outreach: Connect with elderly women in the community through visits, assistance, and companionship, fostering intergenerational connections and serving those in need.
28. Crafting Clubs: Promote creativity and craftsmanship through crafting clubs where women can engage in various artistic endeavors.
29. Nature Retreats: Organize retreats in natural settings, providing women with opportunities to deepen their connection with God while embracing His creation within the natural world.
30. Young Women's Mentoring: Pair older women with young adults to mentor and guide them in their faith and life journey.
31. Youth Engagement Programs: Engage young women in leadership roles within the church, empowering them to actively participate and shape the ministry's direction.
32. Interfaith Dialogues: Foster understanding and dialogue by hosting interfaith conversations with women of different faiths, promoting unity and respectful exchange.
33. Culinary Ministry: Share recipes, cooking skills, and hospitality tips, emphasizing the importance of fellowship and community through shared meals.
34. Crisis Support Teams: Form crisis support teams within the ministry, offering emotional support and care during challenging times in women's lives.
35. Parent-Child Workshops: Host workshops that focus on building strong parent-child relationships, emphasizing Christian values and communication.
36. Testimony Nights: Create heartfelt nights where women can share their personal faith journeys and experiences, fostering empathy and connection and wisdom through what each has learned in their own journey with God.
37. Environmental Stewardship Initiatives: Engage women in eco-friendly initiatives and projects that promote environmental awareness and care for God's creation.
38. Hiking and Outdoor Adventures: Arrange hiking and outdoor adventure activities that encourage physical fitness and appreciation for the beauty of nature.
39. Creative Writing Workshops: Host creative writing workshops that allow women to express their faith and spirituality through writing, poetry, and storytelling.
40. Outdoor Worship Services: Hold outdoor worship services in natural settings to provide a unique experience that celebrates God's creation through praise and thanksgiving.
Building a thriving women's ministry is a journey that requires careful planning and dedication.
By adopting listening, allocating resources wisely, aligning with your church's vision, and implementing creative ideas, you can empower and engage the women in your church community, creating a vibrant and open space for growth through women's ministry.
If you're enjoying delving into this post then you'll love reading our article on 20 Men's Ministry Ideas.
Fostering Success in Your Women's Ministry Ideas
Embarking on women's ministry initiatives is a journey filled with purpose and potential.
As you navigate the path towards enriching the lives of women in your church community, it's essential to consider key strategies that can make your women's ministry ideas thrive.
Strong Vision and Alignment: Ensure that your ministry has a clear and compelling vision that aligns with your church's overarching mission and goals. This alignment fosters unity and purpose. Infuse every aspect of your ministry with deep faith alignment. Root your programs, teachings, and activities in Christian values and beliefs, allowing women to deepen their spiritual connections.
Broad Participation: Recognize and celebrate the diversity within your congregation. Welcome women at different points in their faith journey and create a welcoming atmosphere. Foster an environment where women can personally connect with God and fellow believers. Offer resources and experiences that meet individual needs on their unique paths.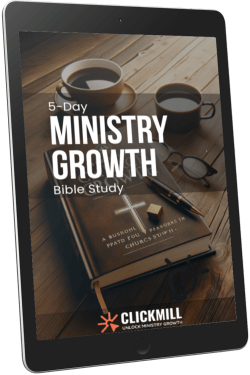 Get Your Exclusive 5-Day Ministry Growth Bible Study!
Get 3+ Hours Of Exclusive Video Content & 2 Free Ministry Growth E-Books When You Enter Your Name & Email! Active Engagement and Communication: Maintain open and consistent communication with church leadership. Share your ministry's vision, goals, and progress, and seek their guidance for alignment. Actively engage with women in your congregation. Host regular meetings, surveys, and focus groups to gather insights and feedback directly from them.
If you want to learn more about how to effectively grow your ministries to see lasting change, then check out our post on How to Promote Church Events.
Flexibility and Adaptability: Be responsive to the evolving needs and interests of the women in your congregation. Be willing to adjust your ministry initiatives to better serve them effectively. Regularly assess the impact of your women's ministry ideas. Seek feedback from participants and measure the spiritual growth, sense of community, and personal empowerment that your ministry fosters. Based on feedback and insights, make adjustments and improvements to your programs and activities to ensure they remain relevant and impactful.
Success in women's ministry ideas isn't solely measured by numbers but by the depth of transformation and connection experienced by the women you serve.
By actively engaging with the community, and continuously nurturing spiritual growth and fellowship, your women's ministry will flourish and fulfill its purpose within your church community.
We hope these ministry ideas have encouraged and ignited a new passion for women's ministry within your church and community groups.
Let us know your thoughts in the comments below.
Women's Ministry Ideas: FAQs
1. How do I choose the most suitable women's ministry ideas for my church community?
Consider the unique needs and interests of your congregation, and consult with the women themselves to gather input. Start with a few initiatives and gradually expand based on feedback and engagement.
2. What can I do to overcome financial constraints when implementing these ministry ideas?
Explore partnerships with local businesses, seek sponsorships, and encourage voluntary contributions from your congregation. Additionally, consider low-cost or free initiatives that rely on the skills and talents within your community.
3. How can I ensure that my women's ministry initiatives are aligned with the church's overall vision?
Maintain open communication with church leadership and actively participate in strategic planning discussions. Ensure that your initiatives complement the church's mission and goals.
4. How can I involve younger women and engage the youth in the women's ministry?
Create specific initiatives tailored to the interests and needs of younger women. Encourage them to take on leadership roles and actively participate in the decision-making process.
5. What are some effective ways to promote women's ministry events and activities?
Utilize various communication channels, including social media, church newsletters, and word of mouth within the congregation. Collaborate with other church ministries to cross-promote events and activities.