Have you struggled to attract and keep new visitors with church events? If so, you will be glad to know that most other ministry leaders experience the same thing.
But what if I told you that things didn't have to be this way?
Imagine a world where people are excited to participate in your church events–but would also eventually become members of your ministry.
In this article, we will reveal a few simple ideas that will help you make that ideal a reality.
Let's get into it!
Church Events And Contrarianism
As Christians, we believe that God created the world to work in an orderly way. Good ideas bring good fruit, and bad ideas bring bad fruit.
One idea that we have found to bring good fruit is contrarianism.
The contrarian believes that what works best is what most people aren't doing.
At first glance, contrarianism may seem like it's all about rebelling and going against the trend. But contrarianism isn't just about being different, it's about being effective, even if that means doing something nobody else is doing.
It takes uncommon methods to get uncommon results.
Contrarianism is not applicable to every situation, because in some cases, the best way of doing things also happens to be the most popular way of doing it. In order to understand how to use contrarianism most constructively in your ministry, we must first understand one more idea – the Pareto Principle.
*If you like this article and want to know more about church growth, check out our post, 10 Most Powerful Church Growth Strategies.
How The 80/20 Rule Can Help You Grow Your Ministry
According to the Pareto Principle, 80 percent of your efforts get you 20 percent of your results. The remaining 20 percent of your effort gets you a whopping 80 percent of your results! This is also known as the 80/20 Rule.
The Pareto Principle reveals a disproportionate distribution of results that can be seen in every area of life.
For example, at Clickmill, 80 percent of our revenue comes from only 20 percent of our clients.
You might also find that 80 percent of your church's funding is brought in by only 20 percent of your members.
80 percent of the growth you get in your ministry is a result of only 20 percent of your growth efforts.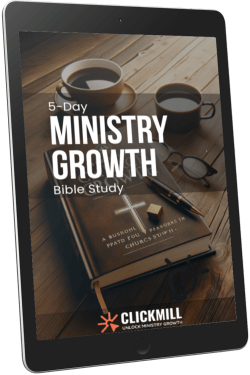 Get Your Exclusive 5-Day Ministry Growth Bible Study!
Get 3+ Hours Of Exclusive Video Content & 2 Free Ministry Growth E-Books When You Enter Your Name & Email! Now that you know what the 80/20 rule is, you will begin noticing that 80 percent of ministry leaders are using ineffective methods that get them 20 percent of their desired results. These pastors spend massive amounts of resources throwing church events, only to bring in guests that have no real interest in the church.
Following the herd mentality will only get you the same results. In order to get the results you want, you can't just find a different way of doing things, you must find the most effective way.
But before we can get into the most effective way to do church outreach, let's look at why the most popular way of doing church outreach is no longer effective. As you may have guessed, this is what 80 percent of ministries are typically doing – and they aren't enjoying their underperforming results.
In the past, you could grow your church by just holding more church events. The reason this worked is because most people in America at that time agreed with Christian values, regardless of whether or not they considered themselves Christians. People were more likely to be within different denominations of the same religion than they were to be in completely different religions.
When a church held a Christian event, people came for the free stuff, and stayed because their beliefs already aligned with church values. If anything, going to church didn't give them new beliefs so much as it did develop their pre-existing beliefs.
To learn more about how to adapt your church marketing plan to the shifting trend, check out our other blog here: #1 Mistake Costing You Church Visitors
The Most Effective Way To Grow Your Ministry With Church Events
Nowadays, people have all sorts of different values. You are just as likely to randomly meet an Atheist or New Age Believer on the street as you are to meet a Christian. Many of these varying religions contradict one another, and all of them contradict Christianity.
This means that while you may be able to draw people in with free stuff, they will leave when you get into more spiritual topics, because your beliefs contradict theirs.
You can bridge the gap by meeting their needs–which also happens to be the most effective way to do church outreach.
Once you have met their needs, they will be more open to hearing from you, regardless of political, ideological, or religious differences. The reason why this happens is because when you freely give to others, they will feel obligated to give back (Rule of Reciprocity). For example, when you listen to someone talk about their day without judging or giving unwanted advice, they will be inclined to ask you about your day
Notice the emphasis on freely giving. Meeting people's needs with an unspoken expectation that they will give back is manipulative, and will only damage your relationship with them in the long run.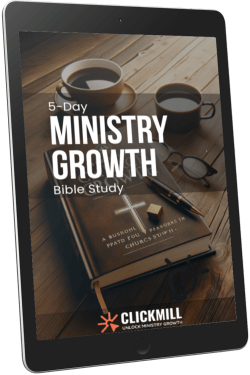 Get Your Exclusive 5-Day Ministry Growth Bible Study!
Get 3+ Hours Of Exclusive Video Content & 2 Free Ministry Growth E-Books When You Enter Your Name & Email! At this point you may be wondering: isn't this strategy the same thing as giving out free stuff at church events?
Not necessarily.
Free stuff is only impactful to your audience if it meets a deeply felt need. One example of this is free pens. Pens may be useful, but they aren't nearly as meaningful as someone to talk to in a time of need, or a warm meal on a cold day.
There are all sorts of needs in the world, so it's important to be clear on who your church is called to reach, and what they need you to do to reach them.
To learn more about finding your target audience and meeting their needs, check out this helpful guide: Building An Effective Ministry: Why You're Not Connecting With Your Ideal Church Audience
How Jesus Did Outreach
Now let's look at some examples in the Bible where Jesus met deeply felt needs:
In Luke 5:4-10, Jesus saw the disciples struggling to fish and helped fill their nets. Afterwards, he offered them an opportunity to have their deeper spiritual needs fulfilled by becoming fishers of men.
In John 4:1-26, Jesus gave the Samaritan woman acceptance and companionship like no Jew had ever given her before. He then offered her living water and revealed Himself as the Messiah.
In Mark 2:1-12, Jesus not only healed a paralytic man, but also forgave his sins to demonstrate His Godhood.
You may have noticed that in each of these examples, Jesus met the physical need before the spiritual one. This is a good approach to take when doing church outreach, because many people aren't even aware of their spiritual needs. By first meeting their physical needs, you can connect it to their spiritual needs and help them to understand.
And that about wraps it up on this post about church events. One of the most effective ways to only draw people into your church AND get them involved is by meeting their needs. Let us know how you will implement this strategy into your next outreach event.
Don't forget to watch our video on this topic for more Biblical examples!