Are you looking for innovative and impactful men's retreat ideas that can bring transformation and strengthen bonds among participants?
Then you're in the right place.
Men's retreats are more than just a getaway.
They are profound catalysts for lasting and life-changing impacts.
Imagine a space where men can break through the surface of everyday Christianity and embark on a transformative journey.
In this post, we invite you to explore the art of crafting men's ministry ideas that resonate deeply, fostering spiritual growth and fortifying the bonds of a vibrant church community.
We will uncover the vision behind these retreat ideas, revealing how they unlock the door for men to open up, be vulnerable, and confess their needs that go deeper than the surface layers of Christianity.
Join us as we navigate the path to creating profound and meaningful encounters for the men in your ministry.
Understanding the Purpose of Men's Retreats
Men within your ministry possess individual and profound needs that are often unspoken and go beyond the happenings of everyday life.
To create men's retreat ideas that truly resonate, it's essential to delve into these unique needs and aspirations of those attending your retreat.
While some may wrestle with personal challenges, others may carry dreams and desires that have been concealed beneath the facade of stoicism.
These retreats should be more than mere gatherings; they should be designed to draw men out of their comfort zones and into an environment where they can be genuine, open, and vulnerable without feeling judged or criticized.
To embark on this journey, you must be willing to delve into the depths of their hearts.
It involves engaging in meaningful conversations, active listening and fostering an atmosphere of trust.
It's about allowing men to lower their guard and share their fears, struggles and hopes.
To create retreats that resonate deeply, one must first recognize and validate the challenges and areas of desired growth that men carry with them.
These struggles can range from personal battles and relationship hurdles to spiritual growth aspirations.
Acknowledging and more importantly addressing these diverse issues is pivotal.
Strategically Aligning Men's Ministry Ideas with Your Vision

A successful men's retreat should be an extension of your ministry's overarching mission and values.

It's more than an isolated event; it's a vital component of your faith community's larger vision.

To ensure that your retreats are not isolated endeavors, it's crucial to align their objectives with your ministry's broader goals.

When men see that these retreats are integral to the ministry's vision, they become more invested in the experience.

Assessing Your Resources: Effectively organizing and executing men's retreat ideas hinges on a comprehensive evaluation of the resources at your disposal. This includes financial resources, as well as human resources such as volunteers and staff members.
Understanding Men's Unique Needs: Aligning with your ministry's vision and fostering open communication are all essential steps in creating retreats that leave a lasting and life-changing impact. Understanding the needs before a you set up your men's retreat idea is paramount. This can be done through something as simple as handing out a questionnaire to identify these needs.

Financial Evaluation: Begin by assessing your budget and financial capabilities. This evaluation will help you determine the scale and scope of your retreats, including factors like venue selection, accommodations, and the range of activities you can offer.

Collaborative Opportunities: Consider the potential for collaboration with other ministries within your church community. Partnering with other groups can lead to innovative ideas, shared resources, and a broader reach for your retreats. It's a powerful way to maximize the impact of your efforts.

Communication with Leadership: Maintaining open lines of communication with your ministry's leadership team is essential for the success of your men's retreats. Their guidance, support, and alignment with the retreat strategy can significantly influence the direction and effectiveness of your events.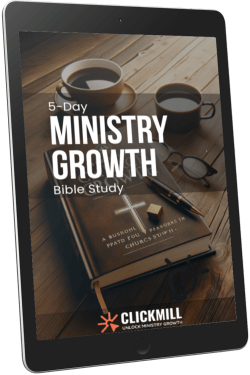 Get Your Exclusive 5-Day Ministry Growth Bible Study!
Get 3+ Hours Of Exclusive Video Content & 2 Free Ministry Growth E-Books When You Enter Your Name & Email! Crafting impactful men's retreat ideas involves a multi-faceted approach.
The essence of men's ministry lies in empowering men to share their faith authentically, catalyzing profound transformation that reverberates with lasting impact.
It's a journey toward nurturing men to embody the divine call to leadership, fatherhood, and friendship upon their individual lives.
If you are looking for more ideas to grow and develop the men's ministry within your church, then check out our post on 20 Men's Ministry Ideas to Supercharge your Men's Group.
What Do Men Do on a Retreat?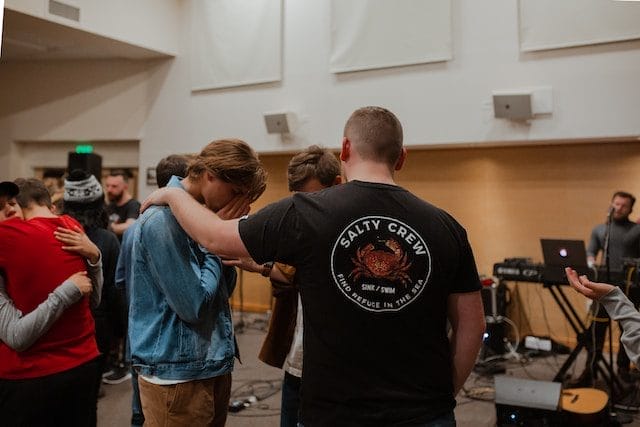 Men's retreats come in various formats, each offering a unique experience tailored to meet specific needs.
These retreats vary in duration, accommodating diverse schedules and preferences.
Day retreats can offer a concentrated burst of spiritual rejuvenation, typically featuring prayer sessions, heartfelt discussions, and engaging workshops, often set in the serenity of local venues or the great outdoors.
Weekend getaways provide a deeper dive combining extended prayer and worship with intensive Bible studies and activities aimed at fostering bonds among participants, frequently held in retreat centers or larger accommodations.
Prayer and meditation sessions deepen the connection with God, while Bible studies delve into scripture to provide insights and spark spiritual growth and discussions.
Proverbs 27:17 (NIV): "As iron sharpens iron, so one person sharpens another." This verse emphasizes the importance of men's retreats in strengthening and supporting one another.
By encouraging openness and authenticity, men can share their struggles and build authentic relationships, a vital aspect often observed in small group discussions.
Utilizing workshops and activities can promote personal development and skill-building while enhancing the sense of camaraderie.
Outdoor adventures, such as hiking and camping, intermingle with moments of reflection and prayer, offering a profound connection with God's creation.
Including teaching and seminars will equip men with knowledge and tools to integrate faith into daily life.
Retreats provide a time for rest and reflection allowing for personal reflection.
Group projects and service activities offer opportunities to give back, instilling a sense of purpose and community engagement.
Additionally, retreats can be tailored to address specific needs, such as strengthening marriages or enhancing father-son bonds, ensuring that each man's journey is transformative and deeply fulfilling.
By centering your efforts on addressing needs and providing solutions, you'll not only craft a life-altering encounter for the men in attendance but also play a pivotal role in the sustained expansion of your women's ministry.
Individuals are inherently attracted to spaces that cater to their requirements, so, whatever the need, a men's retreat should be there to fulfill it.
If you're enjoying this post, then you'll love our article on 38 Lifechanging Women's Retreat Ideas.
Now, let's explore these men's retreat ideas in more detail, offering you a broader perspective on each one.
40 Men's Retreat Ideas
1. Bible Study Intensive: Dive deep into the scriptures with an intensive study weekend. Select a specific book or theme and explore it in-depth. Engage in group discussions, share insights, and encourage men to apply biblical teachings to their daily lives. This retreat fosters a profound understanding of the Word of God and spiritual growth.
2. Book Club Retreat: Combine literature and faith by organizing a book club retreat. Choose Christian books that inspire, challenge, and encourage discussion. Participants can read the selected book in advance, and the retreat becomes a platform for sharing thoughts, personal reflections, and spiritual growth.
3. Business and Faith Integration: Tailored for working professionals, this retreat focuses on integrating faith into the business world. Discuss ethical challenges, decision-making in alignment with Christian values, and how to be a light in the workplace. It's an opportunity for men to strengthen their faith while excelling in their careers.
4. Financial Stewardship: Teach men about responsible financial management from a biblical perspective. Cover topics like budgeting, saving, investing, and charitable giving. Empower men to be good stewards of their finances, ultimately supporting the church's mission and their personal growth.
5. Mission Trip Experience: Combine adventure with service by organizing a mission trip retreat. Engage in community outreach, whether locally or internationally, and witness the transformative power of service. This retreat not only strengthens faith but also builds empathy and a heart for others.
6. Hiking and Reflection Expedition: Take men into the great outdoors for a hiking and reflection retreat. Connect with God through the beauty of nature while hiking scenic trails. Along the way, pause for moments of reflection, prayer, and biblical teachings. This retreat encourages physical activity and spiritual growth simultaneously.
7. Men's Ministry Conference: Gather men from different churches and denominations for a powerful conference. Invite inspiring speakers, host workshops, and provide opportunities for networking. Men can learn from each other's experiences and gain fresh perspectives on ministry.
8. Mentorship and Discipleship Retreat: Focus on spiritual growth through mentorship and discipleship. Pair experienced mentors with younger men seeking guidance in their faith journey. This retreat fosters deep relationships and equips men to become strong spiritual leaders.
9. Music and Worship Jam: Celebrate the joy of worship through music. Encourage men to showcase their musical talents or simply enjoy singing praises together. This retreat can include music workshops, songwriting sessions, and heartwarming worship gatherings.
10. Creative Writing Workshop: Explore faith and creativity through writing. Provide writing prompts and exercises that encourage men to express their faith, thoughts, and experiences. This retreat nurtures creativity and offers a unique outlet for spiritual expression.
11. Cultural Exchange Retreat: Embrace diversity and unity through a cultural exchange retreat. Invite men from different backgrounds to share their cultural traditions, foods, and stories. This retreat promotes understanding, appreciation of differences, and unity in Christ.
12. Family Life Balance: Help men strike a balance between their faith, family, and work responsibilities. Offer practical advice, share personal stories, and provide strategies for nurturing healthy family relationships while staying committed to their faith.
13. Entrepreneurship and Faith: Inspire men to pursue entrepreneurship while remaining rooted in their faith. Explore how biblical principles can guide business decisions, ethics, and leadership. This retreat empowers men to excel in the business world without compromising their values.
14. History of Faith Heroes: Dive into the inspiring stories of faith heroes from the past. Explore the lives of biblical figures, saints, and reformers who made a lasting impact. This retreat encourages men to draw strength and inspiration from the faithful individuals who came before them.
15. Stress Management Retreat: Address the challenges of stress and anxiety through a faith-based approach. Teach men how to rely on God's strength during difficult times. Provide practical stress management techniques and promote mental and emotional well-being.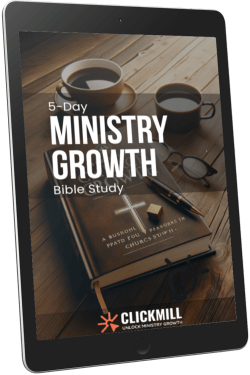 Get Your Exclusive 5-Day Ministry Growth Bible Study!
Get 3+ Hours Of Exclusive Video Content & 2 Free Ministry Growth E-Books When You Enter Your Name & Email! 16. Faith and Science Exploration: Explore the intersection of faith and science in this thought-provoking retreat. Discuss topics like creationism and the compatibility of science and faith.
17. Men's Fellowship at Sea: Set sail for a unique fellowship experience. Enjoy the tranquility of the open sea, engaging in worship, prayer, and biblical teachings while aboard a cruise or boat. This retreat offers a refreshing change of scenery.
18. Storytelling and Testimonies: Stories have the power to inspire and transform. Encourage men to share their personal testimonies and faith journeys. This retreat creates a space for vulnerability, strengthening bonds among participants.
19. Warfare Retreat: Equip men to engage in spiritual warfare through prayer and spiritual discernment. Discuss topics like spiritual battles, overcoming temptation, and defending faith. This retreat empowers men to stand strong against spiritual challenges.
20. Men's Retreat with Guest Speakers: Invite renowned guest speakers to lead a transformative retreat. These speakers can share their wisdom, insights, and experiences to inspire men on their faith journeys.
21. Financial Planning Workshop: Teach men the importance of financial planning and stewardship. Equip them with practical financial skills that align with their faith. This retreat encourages responsible financial management.
22. Prayer Walk and Reflection: Take prayer outdoors by organizing a prayer walk in a natural setting. Encourage men to pray, meditate, and reflect on their faith journey while surrounded by God's creation.
23. Men's Choir Workshop: Celebrate the gift of music by forming a men's choir. Rehearse and perform hymns and worship songs. This retreat not only enhances musical skills but also fosters unity through harmonious worship.
24. Volunteer and Serve Retreat: Encourage men to give back to the community through service. Plan volunteer activities that align with your ministry's mission. This retreat instills the importance of selflessness and compassion.
25. Discerning God's Calling: Help men discern their unique callings within the ministry and their personal lives. Through guided discussions and prayer, explore how they can use their talents and passions for God's work.
26. Men's Movie Night and Discussion: Host a movie night featuring films with faith-based themes. Afterward, engage in meaningful discussions about the movies' messages and how they relate to faith. This retreat offers a relaxed yet Christ centered experience.
27. Outdoor Survival and Faith: Combine wilderness survival skills training with deep spiritual reflection. Participants learn practical survival techniques while exploring biblical stories of perseverance and faith in challenging situations.
28. Veteran's Healing Retreat: Tailored for military veterans, this retreat offers a safe space for sharing experiences and challenges faced during service, coupled with counseling and strategies for healing and personal growth.
29. Extreme Sports and Faith: Combine extreme sports like mountain biking, white-water rafting, and zip-lining with discussions on faith, courage, and overcoming challenges. It's a thrilling adventure for the adventure seekers.
30. Father-Daughter Retreat: Create a special retreat for fathers and their daughters, focusing on building strong relationships, faith values, and meaningful bonding activities.
31. Recovery and Renewal Retreat: Tailored for men on a journey of recovery from addiction or challenging life circumstances, this retreat provides counseling, support groups, and tools for maintaining sobriety.
32. Navigating Life Transitions: Designed for men facing major life transitions like retirement or empty nesting, this retreat offers guidance, support, and faith-based perspectives on embracing change.
33. Digital Detox and Faith: Disconnect from technology and social media for a retreat that focuses on contemplation, prayer, and building authentic connections without distractions.
34. Men's Prayer Pilgrimage: Undertake a pilgrimage to religious sites, combining physical journeying with deep spiritual reflection and communal prayer.
35. Men's Retreat for Parenting: Provide guidance and support for fathers, equipping them with tools to navigate the challenges of fatherhood while nurturing their own faith.
36. Leadership and Discipleship Retreat: Equip men with leadership skills rooted in faith, emphasizing the role of Christian men as leaders in their families, communities, and churches.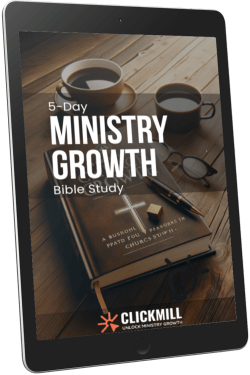 Get Your Exclusive 5-Day Ministry Growth Bible Study!
Get 3+ Hours Of Exclusive Video Content & 2 Free Ministry Growth E-Books When You Enter Your Name & Email! 37. Men's Mental Health Retreat: Address the importance of mental health in faith communities, offering resources, counseling, and discussions on maintaining mental well-being.
38. Sustainable Living and Faith: Explore the connection between faith and sustainable living, incorporating eco-friendly practices and discussions on stewardship of the Earth.
39. Men's Retreat for Widowers: Address the unique needs of widowers, offering grief counseling, support groups, and faith-based strategies for finding hope and purpose in the midst of loss.
40. Prison Ministry Retreat: Organize a retreat focused on prison ministry, training men to reach out to incarcerated individuals, share the message of faith, and offer support to those seeking redemption and transformation.
Measuring the Success of Your Men's Retreat Ideas
Success in men's retreats ideas transcends mere attendance numbers; it's intricately tied to the transformative impact on participants and the broader ministry.
To gauge the effectiveness of your men's retreat ideas, it's imperative to engage in a continuous cycle of evaluation, adaptation, and improvement.
Collecting Valuable Feedback: The first step in this process is gathering feedback from retreat attendees. Encourage participants to share their thoughts, emotions, and insights regarding their retreat experience. Pose questions that delve into the heart of the matter: Did they feel spiritually nourished? Did they establish meaningful connections with their fellow men? Did the retreat align with their expectations and needs? Constructive feedback is invaluable in understanding the retreat's strengths and areas that warrant improvement.
Implementing Changes and Enhancements: Feedback serves as a compass to help guide your future retreat endeavors. Analyze the feedback meticulously and identify recurring themes or areas that require attention. Implementing changes based on this feedback not only demonstrates a commitment to improving the retreat experience but also ensures that each subsequent retreat is a step closer to perfection.
Analyzing Results and Impact: Beyond participant feedback, take a data-driven approach to assess the retreat's impact. Quantitative data, such as participation rates, demographic information, and post-retreat surveys, can offer valuable insights into trends and areas of growth. Consider tracking long-term outcomes, such as ongoing engagement in church activities, to understand the lasting effects of the retreat on participants' spiritual journeys.
Reflection with Team and Church Leadership: The process of evaluation should extend beyond personal introspection. Engage with your retreat planning team and church leadership to collectively reflect on the retreat's objectives, execution, and outcomes. Their perspectives and insights can provide a more comprehensive understanding of the retreat's broader impact on the church community and its alignment with the ministry's overarching vision.
Course Correction and Continuous Growth: Armed with feedback, data, and collective reflection, be prepared to make strategic course corrections. Adjust retreat themes, activities, and formats to better meet the evolving needs of your community. Embrace a culture of continuous growth, where each retreat builds upon the lessons learned from the previous ones, progressively deepening the impact on participants and the ministry as a whole.
Looking to develop and explore even more ministry ideas for your church? Check out our post on 52 Powerful Church Event Ideas.
Remember, when orchestrating ministry retreats, it's paramount to take into account your intended participants and discern the kind of gathering that will deeply connect with them.
The objective is to craft an occasion that ignites inspiration and fosters men's growth in their faith but beyond that into deeper transformative change in their personal lives as well.
By carefully planning and executing these retreat ideas, you can create impactful experiences that resonate with the unique needs of the men in your faith community.
We hope these men's retreat ideas have inspired you to cultivate lasting change in your church community.
We'd love to know your thoughts and any experiences men's retreats have had in your personal journey.
Let us know in the comments below.
Men's Retreat Ideas: FAQs
Q: How do I decide on the best retreat idea for our men's ministry?
Consider your ministry's goals, the needs of your men, and the resources available. Choose a retreat idea that aligns with these factors.


Q: Can men of all ages participate in these retreats?
Absolutely! Tailor retreat activities to suit the age and interests of your participants.


Q: How can I promote a men's retreat effectively?
Utilize cost-effective marketing strategies and social media to reach your target audience within your budget.


Q: What's the best way to gather feedback from retreat participants?
Use surveys, discussions, and one-on-one conversations to collect valuable feedback that helps improve future retreats.


Q: Are men's retreats only for church members, or can anyone attend?
Men's retreats can be open to both church members and non-members, fostering outreach.


Q: How can I encourage men to open up and share during the retreat?
Create a safe and non-judgmental environment, incorporate icebreakers and group discussions, and lead by example to see open communication.


Q: What role does prayer play in men's retreats?
Prayer is essential for seeking God's guidance, unity, and spiritual growth during retreats. It often serves as the foundation of the retreat experience.


Q: Can men's retreats address specific issues like addiction or family challenges?
Yes, retreats can be tailored to address specific challenges like addiction recovery, marriage enrichment, or fatherhood guidance.